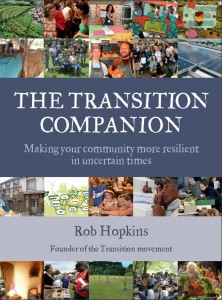 For anyone interested in learning more about Transition, Rob Hopkins' "The Transition Companion" is a great place to start.
Assuming we can get 10 copies spoken for, we'll receive 4 bonus copies from the publisher to loan out to other individuals and organizations in our community.
If you'd like to order a copy at the $29.95 retail price, email hidden; JavaScript is required.
Otherwise, you can check with us about borrowing a copy or check one out from the library.
Here, Rob sets out an exciting, much-expanded idea of what Transition is and could become; one that is rich with hard-won insights and practical advice. It's a work full of bold answers, inspirational ideas and daring solutions. Although profoundly serious at heart, it's never  sombre. In fact, it's a great deal of fun, frequently demonstrating how Transition is a highly creative, stimulating and even playful process … The Transition Companion offers an extraordinarily rich yet highly accessible model for drawing together the people around you, and describes the tools needed to start an economic and social renaissance in the place you live. It's a book that is unashamedly ambitious and far-reaching in its scope and vision. But, if we are to successfully navigate what's coming towards us, and hold on to our identity, our  community and our shared optimism for the future, that is exactly what we need.

Hugh Fearnley-Whittingstall, from the foreword.